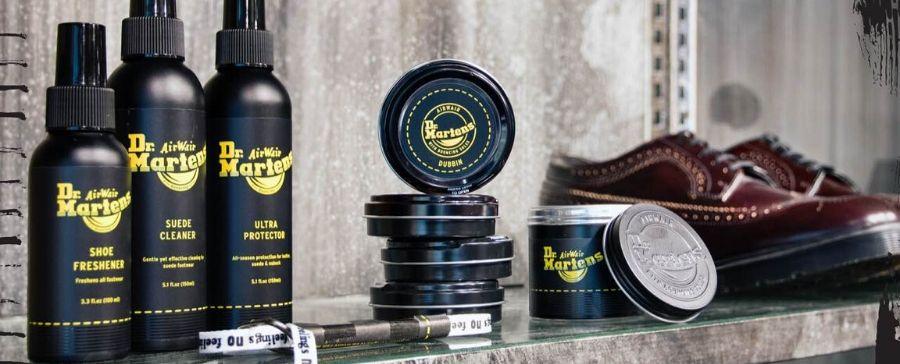 Have your Docs lasting years with regular shoe care. We've kept it simple, just follow these tips.
RELATED PRODUCTS
| | | | |
| --- | --- | --- | --- |
| | | | |
| WONDER BALSAM | DUBBIN | BLACK POLISH | NEUTRAL POLISH |
| Our number one selling shoe care product. Wonder Balsam is Dr. Martens unique blend of coconut oil, lanolin, and beeswax. The natural ingredients clean and protect leather to keep it soft and supple. Wonder Balsam protects against water, liquid and salt marks. | A natural wax formula which can be used to preserve greasy, oily and waxy leather. Apply a generous heap onto a new pair of boots to speed up the breaking in process. | A special formula which restores, conditions and protects smooth leathers from rain and stains. A solid wax. | A solid wax paste formula which nourishes leather to keep it soft and supple. Our polish provides effective rain and stain resistance and buffs quickly to a high shine for use on smooth leathers. |
| TOP TIP: USE A DAMP CLOTH TO REMOVE ANY DIRT AND APPLY RHIS GENEROUSLY. IT REALLY IS WONDERFUL. | TOP TIP: USE A WASHING UP CLOTH TO APPLY SO YOU AVOID ANY UNWANTED STRAY FIBRES STICKING TO YOUR BOOTS. | TOP TIP: COVER SCUFFED TOES WITH BLACK POLISH OR LAYER OVER CHERRY RED LEATHER FOR A BURNISHED LOOK. | TOP TIP: JUST APPLY A COATING, WIPE OFF EXCESS AND BUFF WITH A BRUSH TO SHINE. |
OUR MOST USED LEATHERS AND HOW TO CLEAN
At Dr. Martens, we source the highest-grade leather mainly from South American and Asian Tanneries.
HOW TO CLEAN: WONDER BALSAM
SMOOTH

Durable and famously stiff to start, this leather can be polished to a dapper shine or artfully scuffed-up depending on your preference.

TEMPERLEY

Full-grain, smooth leather treated in the final stages of shoe making to give a classic hand-antiqued finish. This adds a tonal effect to the toe and heel.

QUILON

A vintage version of our Smooth Leather with a subtle-grained effect and contrast base colour. Used on all our Vintage Made in England styles.

CRAZY HORSE

Full-grain, heavyweight leather with a worn, distressed appearance. Full-grain leathers offer a natural look and feel.

VIRGINIA

Soft, fine-grained leather that is treated to feel smooth and supple, this leather is typically dyed, and is offered in a variety of colours.

BRANDO

Full-grain, waxy leather. As you break in this leather it will change appearance, creating a distressed look.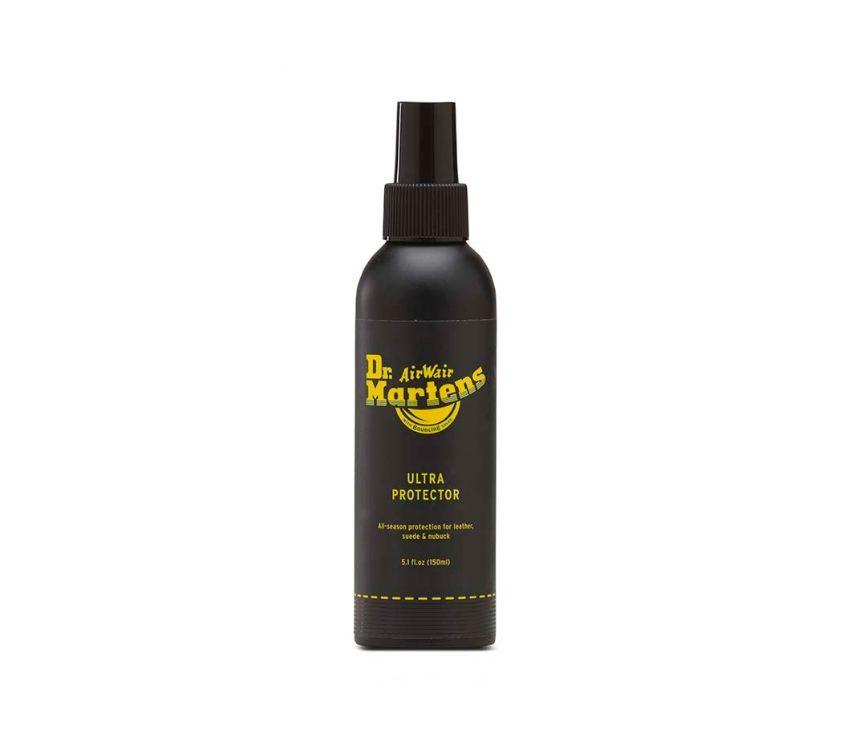 ULTRA PROTECTOR
This non-aerosol spray creates a breathable layer of protection against dirt, rain, UV rays and stains. Safe to use on any colour of leather, suede nubuck, nylon or canvas.
TOP TIP: SPRAY GENEROUSLY OVER YOUR DOCS FROM 8-10 INCHES AWAY FOR ULTIMATE PROTECTION.
SUEDE
HOW TO CLEAN: ULTRA PROTECTOR
HI SUEDE

Lightweight leather treated to have a long pile, with the added benefit of being water-resistant. Our Ultra Protector protects it from stains.
VEGAN
Our vegan range uses two core materials.
HOW TO CLEAN: USE A DAMP COTTON CLOTH TO CLEAN. POLISH CAN BE APPLIED IF DESIRED.
FELIX RUB

Our alternative to our smooth leather made of microfiber poly-synthetics material.

CAMBRIDGE BRUSH

An antique two-tone finish. This is polyurethane coagulate/non-woven material with a glossy finish.